The Arts Society Paris Programme 2020-2021
These illustrated lectures are delivered in English by leading European speakers, all experts in their fields.
All lectures start at 14:00 CET unless otherwise stated.
Due to the current COVID-19 restrictions, the Arts Society Paris is unable to hold physical meetings at the Ranelagh. Until further notice, all meetings will be held online by Zoom. Instructions for joining the lecture will be sent before the meeting.
Guests are welcome to attend these lectures. The lectures are free to members of PADFAS and to members of The Arts Society. Other guests may attend for a fee of 7€: contact paris@theartssociety.org for details.
Click on the lecturer's name to see more information (if available)
---
14:00 ANNUAL GENERAL MEETING
The convocation to the AGM has been sent individually to members. It is also available online: click here.
14:30 JAN STEEN: MASTER STORYTELLER
One of the best-known artists of the Dutch Golden Age, Jan Steen was a born storyteller with humorous or more serious subjects to be found among his œuvre. He was a first-rate painter with an outstanding technique.
By Jane Choy-Thurlow
Jane E. Choy-Thurlow is a docent and enjoys giving lectures and tours at the Mauritshuis, Prince William V gallery and Huygens Museum Hofwijck in The Hague, The Netherlands. A few of the many exhibits in the Mauritshuis she has been part of are: the legendary Johannes Vermeer exhibit, Rembrandt by Himself and Holbein, Portraitist of the Renaissance.
---
Thursday 3rd December 2020
THE SUBTLE SCIENCE AND EXACT ART OF COLOUR IN ENGLISH GARDEN DESIGN
In 1888 Gertrude Jekyll wrote a short but seminal article in The Garden in which she urged the readers to "remember that in a garden we are painting a picture". As an accomplished watercolour artist, Miss Jekyll was familiar with the principles of using colours, but she felt that in gardens these principles "had been greatly neglected". This talk looks at how to apply these principles in designing a border, but it also looks at the ways in which a border is different from a painting. However, it goes further than this and looks at how contemporary work of the likes of Turner, Monet, Rothko, Jackson Pollack, and Hockney evolved in parallel with ideas about what a garden or border should look like.
By Timothy Walker
Since 1986 Timothy Walker has given 1,500 public lectures. This was originally part of his work as director of the Oxford University Botanic Garden from 1988 to 2014. Botanic gardens are often described as living museums, and garden curators lecture about them in the same way as museum curators talk about their collections. Since 2014 he has been a college lecturer and tutor at Somerville College Oxford. Gardens are often thought of a place where science and art meet on equal terms. Timothy Walker's lectures investigate this relationship.
---
Thursday 7th January 2021
DUBLIN
Dublin has played a major part in the conquest by Ireland of its independence. The island was confronted by military and political struggles and the often terrible economic conditions of the island.
Dublin has always been a real European cultural capital. From the Book of Kells to U2 and Bono, along with some of the most striking literary works ever written in English, Dublin offers an endless series of aesthetic and intellectual opportunities.
By Christian Monjou
Research professor at Oxford, former laureate of the Besse Foundation, Christian Monjou is a specialist in Anglo-Saxon civilisations. He was for a long time professeur de chaire supérieure en khâgne at the Lycée Henri IV in Paris and lecturer at the École Normale Supérieure in the Rue d'Ulm.
---
Thursday 21st January 2021 at 18:00 CET
Warwick Castle : The forgotten collection
Warwick Castle remains as one of Britain's best preserved and most popular medieval castles. The imposing stone walls and towers were raised by the powerful medieval Earl of Warwick, who took an active part in Medieval England's most important historic events. However, from 1604, the castle was transformed into a luxurious stately home, filled with arguably one of Britain's most prized collections amassed during the eighteenth and nineteenth centuries. Its beauty attracted the likes of Canaletto, Wright of Derby and Turner. The sale of Warwick Castle to an entertainments company in 1978 by Lord Brooke meant that the castle's history and collection remains one of Britain's best kept secrets.
By Adam Busiakiewicz
Adam Busiakiewicz is an Art Historian, Lecturer and Lutenist. Many members will remember the lecture that Adam presented to us on the Lute.
---
THE WATERCOLOUR WORLD PROJECT.
POSTPONED
The Watercolour World (TWW), a new online project which uses an overlooked artform to help reveal the world as it looked before photography, was launched in 2019. The Watercolour World is the brainchild of Fred Hohler.
By Fred Hohler
Fred Hohler is the British former diplomat who founded the Public Catalogue Foundation in 2002, which photographed and published over 200,000 oil paintings in public ownership in Britain for the first time.
---
Thursday 4th February 2021
MOVERS AND SHAKERS:
THE WOMEN WHO BUILT THE AMERICAN ART INSTITUTIONS.
George Santayana proclaimed in 1911 that US culture was a feminized backwater presided over by genteel ladies. Henry James in Daisy Miller (1878) had mocked them for their pilgrimages to Europe seeking art. Yet by the 1880s, women were founding associations as patrons of the arts. Isabella Gardner of Boston was the first to create a whole museum with 82 rooms in her own home! Louisine Havmeyer of NYC soon followed suit. Self-appointed art advisor Elsie de Wolfe, who proclaimed the Arts and Crafts movement a moralizing must, would be lampooned in Cole Porter's Anything Goes and later as Miss Piggy. Yet, thought and mission statements of many angels of culture still guide the large cultural institutions they founded: Jane Stanford's museum in San Francisco; Abby Rockefeller for MoMA and Gertrude Vanderbilt for the Whitney. Peggy Guggenheim is a whole other story.
By Deborah Jenner
Deborah Jenner is an American-born art historian; member of College Arts Association. Residing in Paris since 1990, she has worked at the Ecole du Louvre, the Sorbonne, the Catholic Institute and the British Council. Her Doctorate thesis proved non-western influences in Georgia O'Keeffe's art. Her publications include catalogue essays for Musée d'Orsay (New York City et l'Art modern) and Centre Pompidou (Les Traces du Sacré), scholarly papers with the research laboratory S.A.R.I. and Gallery critiques in ArtAsiaPacific, and PerformArts: Artvisuel-Artvivant. She gives public talks, guided walks and museum tours for ex-pat organizations and study-abroad programs and volunteers as an Al Gore Climate leader and JCF Round Table coordinator. She is a member of The Arts Society Paris.
---
Thursday 18th March 2021 at 15:00 CET
THE FORGOTTEN PAINTINGS OF THE ART WORLD KNOWN AS "SLEEPERS".
FAKE OR FORTUNE?
This talks looks at the forgotten and misattributed pictures found in the art world which Julia and her colleagues take pride in revealing. The lecture provides clues as to how professionals go about discovering hidden gems which have long since lost their dignity or fallen into anonymity. The talk guides you through the research and examination of pictures and is rich in detail about the age of pigment, panels, canvases and frames.
By Julia Korner
Julia Korner is a specialist and lecturer in fine art conservation and the restoration of paintings, sculptures and frames. She is also a valuer, passionate collector, advisor and curator of paintings and works of art. Julia trained in art history, sculpture and graphic illustration in Cambridge, England. Then, for twenty years, she worked for Christie's as a paintings specialist, building extensive knowledge of Old Masters, and of British, European and American paintings from the 1700s onwards. She set up Christie's Maritime Department in 1987, followed by the Frame sales, the Aeronautical, Exploration and Travel and the Polar sales. Julia was elected Huntington Fellow of the Mariners' Museum, Newport New, Virginia, USA, in 1997. A seven year commitment saw her catalogue this collection and of its sister organisation, the South Street Seaport Museum, New York. Julia has worked independently in her own studio in West London for almost twenty years. Here, she and her small team give specialist conservation work personal and expert attention. Damaged paintings, polychrome statues, frames, over-mantles, traditional gold leaf and gesso frames all emerge restored and transformed under her expertise, knowledge and care. Julia acts as an advisor, valuer and exhibition curator for public and private collections, in the UK and abroad. She also gives illustrated talks and lectures. She is an elected member of The British Antique Dealers' Association, (and exhibits at the annual exhibition), The British Association of Paintings Conservator Restorers, The Worshipful Company of Arts Scholars, The International Institute for Conservation, The Fine Art Trade Guild, The Maritime Information Association, The Museums Association, and The Conservation Consortium.
---
Thursday 25th March 2021 at 14:30
LES FRERES MOROZOV
This additional lecture will be given in French.
Dans l'histoire des collections russes, le milieu du XIXème siècle est une période charnière : la classe des marchands et des industriels fortunés entre en scène et Moscou et la province reprennent la main. Ceux qui parviennent à constituer d'importantes collections se sont souvent enrichis grâce au textile, comme les frères Morozov, Michel(1870-1903) et surtout Ivan (1871-1921), qui voit dans la collection d'art un « répit dans sa vie d'affaires si monotone » ! Ils vont faire découvrir l'impressionnisme aux Russes puis se passionnent pour des peintres modernes comme Cézanne, Gauguin et Matisse. Ivan commande à Bonnard un triptyque destiné à être placé sur le palier supérieur du grand escalier de son hôtel moscovite et à Maurice Denis cinq panneaux consacrés à l'histoire de Psyché pour le salon de musique. Les pièces majeures de cette collection sont attendues à la Fondation Vuitton au printemps , croisons les doigts!
By Catherine de Vaucorbeil
This lecture will be given in French by Mme Catherine de Vaucorbeil , who many members will remember as our guide for past visits to the Abbaye of Royaumont, Château d'Ecouen, Saint-Alexandre-Nevsky Cathedral in the rue Daru and the Russian cemetery in Sainte-Geneviève des Bois. She also presented a lecture on L'icône, des portraits du Fayoum à Andy Warhol last year.
---
Thursday 8th April 2021 at 14:00
THE AULD ALLIANCE
This is an additional lecture about the Auld Alliance between France and Scotland
By Christian Monjou
---
POSTPONED
DAZZLING DUFFY: INVITATION TO A LUMINOUS FEAST WITH RAOUL DUFFY.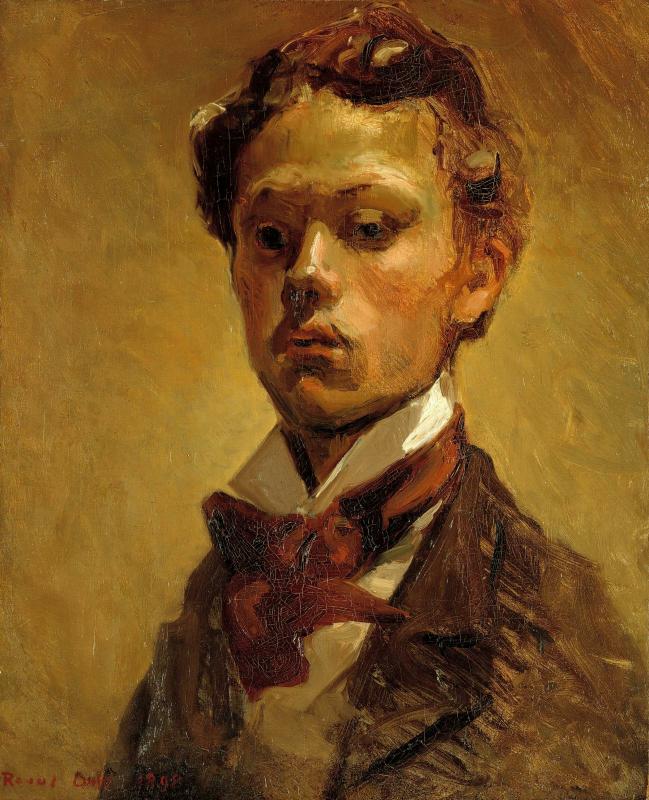 Raoul Dufy (1877-1953) was a key player in early twentieth century avant garde art, design and literary/theatrical circles in Paris. As a widely travelled polymath, Dufy's charismatic personality, wit and curiosity about the world was infectious.
His imagination and technical virtuosity – across a range of media including painting and lithography, posters, book illustration, theatrical set design, textiles and fashion, ceramics and large murals – cut across all conventional boundaries. Whether a small intricate woodcut illustrating a love poem, or the truly gigantic 1937 world fair murals depicting the role of electricity in the modern age, the effect is mesmerising.
Dufy defies categorisation, constantly innovating and experimenting with new materials and effects. His analysis of the visual world is sophisticated and joyous in equal measure. Perhaps this goes some way to explain why some later critics fail to grasp its complexity and pigeonhole him a 'decorative artist', or misunderstand the irony in his witty yet gentle caricatures of elegant social life.
By Mary Alexander
Thirty years' experience as a lecturer, with a BA in History and History of Art and a MA with distinction in History of Art from University College London. Experience includes public lectures in museums, tutoring for the Open University, visiting lecturer at Christie's Education in London, museum curator at Platt Hall, the Gallery of Costume, Manchester. Now a freelance lecturer to various arts, heritage and antiquarian societies. She also worked in Pentagram design consultancy in London and New York, organising conferences and special events. Author of various articles on design and visual awareness issues, her background combines an unusual blend of academic and visual communications skills. Lectured for ADFAS Australia and New Zealand in 2011, 2013 and 2016. Mary is an enthusiastic member and President of The Arts Society Glaven Valley.
---
Thursday 20th May 2021 at 18:00 CET
The World of Claudio Monteverdi (1567-1643)
The Italian composer Claudio Monteverdi stands at the beginning of the musical Baroque, an era brought to its conclusion by the monumental oeuvre of Johann Sebastian Bach. My talk will explore how the earlier composer, born one hundred years before Bach, inaugurated the period by establishing a new musical practice at the turn of the 17th century. In addition to discussing recorded excerpts of some of Monteverdi's music, which includes vocal chamber works (madrigals) that defied the traditional rules of composition, and his contributions to the groundbreaking new genre of opera (Orfeo), I will compare him to his contemporaries, the painter Caravaggio among others, to show how and why the sensibilities of both composer and artist helped to define the era.
---
By Barbara Hanning
Barbara Russano Hanning is an American music historian and lifelong resident of New York City, where she is Professor Emeritus of Music at the City University of New York and has taught in the doctoral program of The Juilliard School. She is author of a book on early opera and of various articles on 16th– and 17th-century Italian music, iconography of music, and 18th-century French subjects as well as of a textbook, Concise History of Western Music, currently in its fifth edition (W. W. Norton). A past president of the Society for Seventeenth-Century Music, she currently serves on the Board of the early music ensemble ARTEK.
---
Thursday 27th May 2021
THE MUSICAL WORLD OF JOHANN SEBASTIAN BACH (1685-1750)
Bach is so important in the history of music that we close down the Baroque period with his death in 1750. He is one of the most challenging of composers and rarely reveals the subtleties of his music on first or even second hearing. We shall go beneath the surface of Bach's music to decode some of its symbolism and to highlight some of his aesthetic goals.
Peter Medhurst will also perform a selection of Bach's arias and keyboard music.
---
Thursday 3rd June 2021 at 18:00 CET
STREET ART IN PARIS
An addition to our programme in FRENCH
"Street art in Paris": Banksy, Obey, Invader, John Hamon, ces noms et pseudonymes vous disent peut-être quelque chose…Longtemps associé au vandalisme et à la dégradation du mobilier et du bâti urbains, voici que graffitis, mosaïques, collages et fresques murales se vendent désormais en galerie, habillent le bureau du président et constituent une composante foisonnante de l'art vivant et contemporain. Chaque grande ville se doit d'avoir ses espaces ouverts à l'invasion graphique et plusieurs festivals de street art sont même organisés. Le zoom va bien nous faciliter les choses pour vous proposer un état des lieux à Paris et un panorama des oeuvres les plus marquantes des quartiers de Belleville, Ménilmontant, la Butte aux Cailles et du très ambitieux "Boulevard 13".
by Hélène Tellenne
Members will remember Hélène from her guided visits and her lecture Quand le Roi vivait au Louvre in January.
---
Sunday 6th June 2021 at 15:00 CET
Passés recomposés : musique de l'intime
An addition to our Arts Society programme : a live online zoom concert
Une passion commune pour l'Italie a mené Anna Herbertson (violon) et Cristina Capozio (guitare) à retrouver par le voyage musical les ambiances chaleureuse et enveloppantes mais aussi mélancoliques de leur pays d'origine. De Venise à Florence, la musique composée pour violon et guitare met en valeur la dimension intime et délicate de ces deux instruments. Le programme traverse les époques, partant du Baroque avec Vivaldi et atteignant les rives du XXe siècle avec les expériences de Margola, sans négliger les oeuvres aux harmonies classiques de Gragnani et les envolées romantiques de Molino et Paganini.
---
Programme
Venise XVIIIe siècle
Antonio Vivaldi (Venise 1678 – Vienne 1741)
Sonata in Re maggiore op. 2 n. 11 RV 9 arrangement pour violon et guitare
1709

Sonate pour violon et basse continue assez traditionnelle dans sa forme et marquée par l'influence de Corelli.
Célèbre compositeur de musique baroque, Vivaldi est aussi un violoniste virtuose parmi les plus célèbres et les plus admirés de son temps.
Livourne XIXe siècle
Filippo Gragnani (Livourne 1768 – Livourne 1820)
Duetto I in Re maggiore op. 8
1810
Issu d'une famille de luthiers et de musiciens remarquables, Gragnani étudie la musique et le violon dans sa ville natale avec Giulio Maria Lucchesi. Par la suite, il se consacre à la guitare, devenant un virtuose célèbre.
Après un voyage en Allemagne, il s'installe à Paris en 1810 et devient l'élève de Ferdinando Carulli.
Contemporain de Paganini et du guitariste virtuose Giuliani, Gragnani contribue au développement de la guitare à six cordes au XIXe siècle en composant des oeuvres originales.
Brescia XXe siècle
Franco Margola (Orzinuovi 1908 – Nave 1992)
Sonatina
1980
Franco Margola est un de plus important compositeur du 20ème siècle italien. Sonatina est une pièce joyeuse, la seule composition publiée pour violon et guitare
Gênes XIXe siècle
Niccolò Paganini (Gênes 1782 – Nice 1840)
Cantabile in Re maggiore op. 17 MS 109
1824
Compositeur et violoniste italien, Niccolò Paganini parcoure l'Europe avec succès. Virtuose, il fascine des artistes aussi différents que Chopin, Schumann, Schubert, Liszt ou Berlioz qu'il connaît et aide.
Les innovations qu'il apporte à la technique de son instrument font de lui le père du violon moderne. Il est aussi un excellent guitariste, passant parfois d'un instrument à l'autre au cours d'un même concert.
Dans les oeuvres de musique de chambre, Paganini utilise, plutôt que le piano, la guitare pour accompagner le violon. Il estime que la guitare s'oppose moins nettement à l'archet, laissant la prédominance du chant au violon.
Turin XIXe siècle
Francesco Molino (Ivrée 1768 – Paris 1847)
Premier nocturne op 37 in La minore
1825
Francesco Molino, guitariste et compositeur, s'établit à Paris en 1820 alors que l'intérêt pour la guitare est fort, incitant les compositeurs à multiplier les oeuvres et à développer les possibilités de la guitare comme instrument soliste et virtuose.
Molino concentre le langage caractéristique de la guitare à la manière de la grande tradition européenne, évitant les effets faciles et la virtuosité gratuite exigée par le public des salons parisien.
---
Anna Herbertson
1er Prix de violon au Conservatoire A. Steffani de Castelfranco Veneto, en Italie, Anna Herbertson se perfectionne ensuite avec Domenico Nordio au même conservatoire pendant deux ans. Parallèlement, elle participe à de nombreuses master-classes : musique baroque avec Walter Vestidello et Giorgio Fava ; violon avec Helfried Fister, Michael Bochmann, Marco Fornaciari, Grigori Zhislin, Enzo Porta, Simone Bernardini. Se perfectionne ensuite en France chez Jean Lenert et Sophie Sultan. Depuis 2013 est professeur de violon pour plusieurs écoles et en 2018 elle obtient le Diplôme d'Etat de professeur de violon au Cefedem de Normandie. Elle se produit également en concert avec l'orchestre Pasdeloup et en duo violon piano et violon guitare avec Cristina Capozio.
Cristina Capozio
Guitariste de formation classique née en Italie, Cristina Capozio obtient le Diplôme d'Etat au Conservatoire de Trento.
Passionnée par la pédagogie musicale, elle participe à plusieurs formations sur les méthodologies Kodály, Dalcroze et Gordon en Italie, Angleterre et en France. Elle obtient aussi la certification en Technicienne de Musicothérapie et Psychothérapie non-verbale.
En 2005 elle quitte son pays d'origine et elle se consacre à l'enseignement au conservatoire de Palaiseau.
Parallèlement, elle se produit en concert avec l'orchestre de musique argentine de Paris et elle pratique la musique de chambre, en duo flûte guitare, harpe guitare et violon guitare avec Anna Herbertson.
---
Click here to see last session's lectures.